E1/T1 PRI Gateway
VoIP Hardware Solutions
Provider
Solution Details
VoIP Phones, Systems & More

Your Go-to Spot for Top Telecom Products
Authorized VoIP Reseller - Safe & Secure
Free Shipping over $99 + Quantity Discounts

Details
PRI Gateway from Allo.com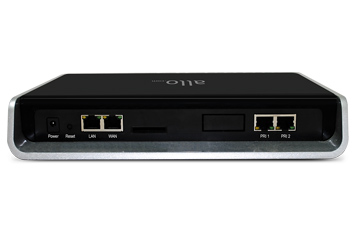 Our Scalable VoIP PRI Gateways ranging from 1 to 8 PRI ports developed to enable direct connection of VoIP traffic to the PSTN / fixed line ISDN for extending communications and reducing call charges.
Key Features
1 ISDN PRI ports
30 simultaneous calls
Software configurable to E1 or T1.
EuroISDN, National ISDN 2, At & T 4ESS, Lucent 5ESS, Nortel DMS100, QSIG, Old National ISDN 1
Support for SIP
G.711 a-Law and G.711 u-Law codec support
Echo cancellation (G.168 up to 128 ms)
Configuration and management using a web browser.
Contact Allo.com
Allo.com - VoIP Hardware Manufacturer
Address: ADRASH ECO PLACE, No.176, Ground Floor, EPIP INDUSTRIAL Area
Whitefield, Bangalore-66, India
Email:
andre@allo.com
Website:
Allo.com
See Also
Created by:
nabibaig
, Last modification: Thu 14 of Jun, 2012 (08:50 UTC)
Please update this page with new information, just login and click on the "Edit" or "Discussion" tab. Get a free login here:
Register
Thanks! -
Find us on Google+